www.electronics-usa.com
Written on Modified on
Low-power PSoC 6 microcontrollers from Cypress now shipping from RS Components
Dual-core-processor-based MCUs target deployment in secure devices across wide range of IoT applications.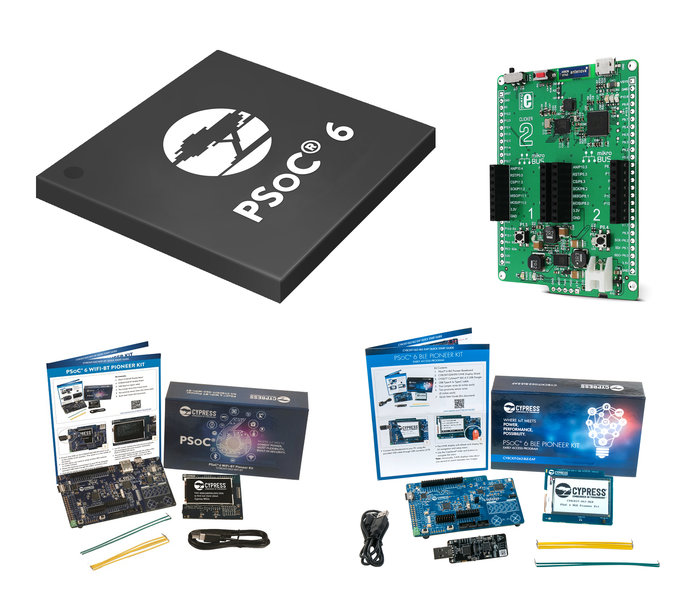 LONDON, UK, xx Month, 2018 - RS Components (RS), the trading brand of Electrocomponents plc (LSE:ECM), a global multi-channel distributor, is stocking PSoC 6 microcontrollers from Cypress Semiconductor Corp. The range offers industry-leading low power and a highly flexible MCU architecture.
Ideal for secure and battery-powered IoT devices, the MCU family targets deployment in a wide range of IoT applications, including the industrial IoT, smart home equipment, home appliances and portable medical devices.
The PSoC 6 MCU family architecture is based around an ultra-low-power 40nm process technology and dual-core Arm
®
Cortex
®
-M4 and Cortex
®
-M0+ processors, which enables engineers to optimise their solutions for performance and power consumption. In addition, the MCUs offer easy-to-use software-defined peripherals and the integrated security features required for use in IoT devices.
Key features of the family are memory capacities of up to 1MB Flash and 288KB SRAM, Bluetooth
®
Low Energy 5.0 connectivity, and Cypress' CapSense
®
capacitive-sensing technology for robust and reliable touch- and gesture-based device interfaces.
Additionally, and crucially for next-generation secure IoT devices, the architecture delivers a hardware-based Trusted Execution Environment (TEE) with secure boot capability and data storage to protect firmware, applications and other secure assets. The MCUs implement a wide range of industry-standard cryptographic algorithms, including ECC, AES and SHA 1,2,3, all within an integrated hardware coprocessor.
Other features of the family include: PDM-PCM interface and Quad-SPI interfaces; full-speed USB connectivity; plus nine serial-communication blocks, seven programmable analogue blocks and 56 programmable digital blocks.
RS offers a full suite of the accompanying development kits, which allow design engineers to develop prototypes featuring the MCUs. These include:
- PSoC
®
6 WiFi-BT Pioneer Kit (CY8CKIT-062-WIFI-BT) - a low-cost hardware platform that enables design and debug of the PSoC 62 MCU and the Murata LBEE5KL1DX module (based on Cypress' CYW4343 combo chip).
- CY8CKIT-062-BLE PSoC 6 Pioneer Kit for the IoT - a general-purpose PSoC 6 kit with the PSoC 63 MCU w/ BLE 5.0 compliance.
- Clicker 2 for PSoC 6 Development Board - which contains a PSoC 63 MCU w/ BLE 5.0 compliance and simplifies interfacing with the Click platform.
At the electronica trade fair in Munich, Germany, 13-16 November 2018, RS will be showcasing a typical application of PSoC 6 MCUs in the "for the inspired" area of its stand (Hall C5, Stand 147).
Cypress' PSoC 6 MCUs and accompanying development kits are now shipping from RS in the EMEA and Asia Pacific regions.